Water Asset Management
Managing Your Water Resources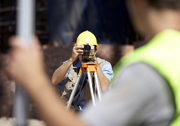 Manage your water assets, water resources and water infrastructure using efficient water system operation, system mapping, water metering, water-flow control and water audits to ensure economic water usage.
Monitor your water quality with routine water sampling, including bacteriological and chemical testing.
Mapping
A detailed survey of your water system simplifies management, maintenance, control and operation of your system and is an invaluable aid to planning, whether to meet future water demand, modifying or developing the system or preparing contingency plans for emergency situations.
Plans are a key element of an environmental quality management system.
Metering
The humble water meter is so much more than a recording device that influences the size of your water bill. By measuring flow through the water meter accurately we can assess leakage and wastage on your system.
Our detailed study of the flow through your meter typically lasts for one week and is tailored to your water usage. We provide tabular and graphical records of water flow together with a report of the findings; which includes recommendations to improve the effectiveness of your water system.
If you would like this information yourself, on a regular basis, we can provide the apparatus for you to record flow and download it to your own computer for analysis. If your water meter is on a remote site then meter information can be relayed, through a modem and telephone line, to your computer.
Why not give us a call to discuss your needs?
Flow management and control
The flow of water through a system is influenced by a number of factors, including the diameter of the pipe work, the roughness of the pipes, inlet and outlet conditions. The flow of water through your system may not be what you want. We will develop solutions to deliver what you want, where you want it.
Water quality
Questions over water quality can arise concerning the source of the water, the way that it is stored, the way it is distributed and the way it is dispensed at the point of use. We can advise upon and undertake testing to verify the water quality and advise
Water Services
Water Management
Water Asset Management

Sewerage Services >>